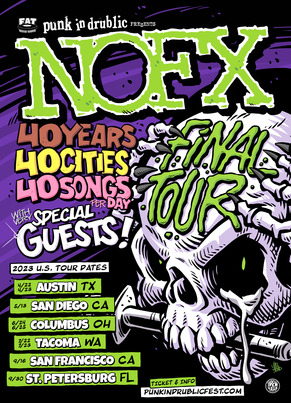 NOFX have been keeping punk rock elite for decades—four to be exact—but now they're putting their songs out to pasture. 
The band's final tour is made up of forty shows, where they will play 40 unique songs in each city to celebrate 40 years of fuckin' up.
The tour kicked off in San Antonio, Texas, April 22, and is scheduled to come to a crashing halt in October 2024 in Los Angeles, California. Forty cities to freedom, baby.
"This is not a final tour like Mötley Crüe or Black Sabbath…These are the very last shows NOFX will ever be playing," NOFX lead singer and bassist Mike Burkett, affectionately known by fans and comrades as "Fat Mike", said of the tour. "We are gonna play with all our hearts…With all our joy…And then we are done. We are done done."
READ MORE: Dead Poet Society Unleashes Raw Energy In Genre-Bending Performance
The punk royalty lineup is reminiscent of the Vans Warped Tour heyday without the indie pop invasion.
Punk legends Less Than Jake, Circle Jerks, Pennywise, Bad Cop Bad Cop and many others will be joining the band on various legs of the tour, adding considerable star power to an already historic set of shows.
Brew Ha Ha Productions and the Punk in Drublic Music Festival joined forces to bring the shows to American audiences, offering craft beer and punk rock in liberal quantities.
Coming off the heels of what we came to find out would be NOFX's final album, 'Double Album', released Dec. 2, 2022, the tour promises to be an epic farewell to the ska punk OGs.
"One of the reasons I'm quitting NOFX is because I want to find better ways to help people find happiness," Fat Mike said on a Punk MBA podcast.
The NOFX frontman is the owner and founder of Fat Wreck Chords, a record label that has brought talented punk bands from the edges of obscurity into the spotlight as well as brought together punk veterans in modern day supergroups. Other endeavors include the recent opening of a punk rock museum and a return to stand-up comedy. There was even mention of a new non-punk centered label.
The first hint of an eventual breakup presented itself when NOFX decided to retire their biggest commercial hit, Linoleum. To mark the occasion, the band collaborated with Avenged Sevenfold for a parody of the anthem.
Regardless of what the future holds for the band members, the NOFX Final Tour will be a memorable moment in punk rock history. 
More information on the tour can be found at https://www.brewhahaproductions.com/, https://www.punkindrublicfest.com/ and https://www.nofxofficialwebsite.com/